Our Director, Jinny (Ghanyapad) Tantipipatpong has given the interview to Bangkok Post as the President of Thai Food Processors' Association.
Our Director, Jinny (Ghanyapad) Tantipipatpong has given the interview to Bangkok Post as the President of Thai Food Processors' Association. Read about her view on the export of food products from Thailand.
Euro woes weight as Thaifex show opens
Processed food exports will likely take a hit
Published: 23/05/2012 at 02:21 AM
Newspaper section: Business
Europe's ailing economy will have a significant impact on Thailand's exports of processed food if the crisis prolongs.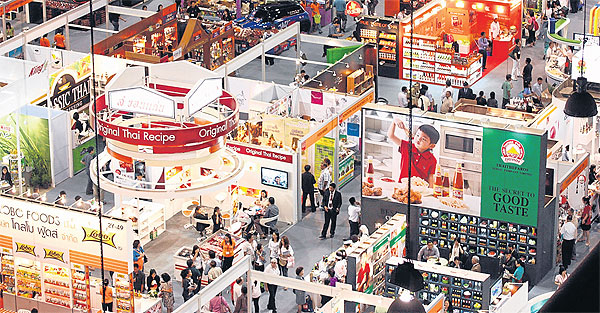 Local traders expect the problems in Europe, a market that accounts for 10% of total Thai exports, resulting in sales growth of prepared food slipping to 5%, far behind the 15% projected earlier.
"Thai exporters suffered critically from downturns during the US sub-prime crisis in 2008, which saw many shipment cancellations," said Ghanyapad Tantipipatpong, president of the Thai Food Processors' Association. "We're wondering if these [cancellations] would happen again from buyers in Europe."
She said processed food _ seafood, tuna, sweet corn, fruits and vegetables, canned pineapple, food ingredients _ may fetch 173 billion baht, up from 165 billion last year.
The light growth is in line with overall exports for food including rice, sugar and chicken.
The National Food Institute expects the country will generate 1.01 trillion baht in income from all food exports, a 5.3% rise.
Ms Ghanyapad said the crisis could affect consumer confidence and cut spending on some food items.
In the first quarter, Thailand saw a slight drop of 1.6% in exports of processed seafood, fruits and vegetables.
"But the second half may see a bigger impact," said Ms Ghanyapad.
To alleviate the blow, she suggested food exporters invest to improve competitiveness and explore niche markets with innovative products.
Furthermore, they should focus on the Asean Economic Community (AEC), a market with 601 million people.
Ms Ghanyapad has also encouraged the government and private institutions to promote the Thaifex food exhibition cooperatively as a regional event in order to increase the profile of the Thai food industry internationally.
Thaifex _ World of Food Asia 2012 will be held at Impact Muang Thong Thani from today to Sunday.
"This will be our venue for marketing and image, preparing us for a bigger AEC market," said Ms Ghanyapad.
The International Trade Promotion Department, a co-organiser of the fair, said 1,073 local and foreign firms in food and related industries will join the event, which will open to the public on Saturday and Sunday.
The exhibition is expected to draw 9,000 visitors and could spur the export of products later on.
Nuntawan Sakuntanaga, the department's director-general, remains confident that export of frozen foods, seafood and processed food will continue to grow significantly this year regardless of the euro-zone crisis.
Exports of Thai seafood including raw and processed products will reach an estimated US$6.1 billion this year.
Sales of shrimp products are expected to rise by 3% to $3.6 billion.
Major export markets for seafood products include the US, Japan and the EU.
Reference: http://www.bangkokpost.com/business/marketing/294651/euro-woes-weigh-as-thaifex-show-opens